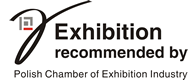 Join to business events: Polagra Tech + Pakfood


30.10.2017
We are presenting you with the latest interactive issue of Poznań Fair Magazine "Calendar of trade fair in 2018". It is absolutely unique publication onto polish market! We invite you to click!
07.10.2017
We would like to thank you for your prescence at Polagra-Tech 2017 fair
03.10.2017
Traditionally, the largest gathering for the food sector took place in Poznań. For the sector, the fall kicks off with Polagra, which represents a group of trade fairs that offer a comprehensive review of the industry. It is a very positive and attractive time. Starting on Saturday, September 23rd, the Poznań International Fair housed Tastes of Regions. From Monday, that got complemented with the other events in the business block including Polagra Food, Polagra Tech, Pakfood, Polagra Gastro and Invest Hotel. On top of that, the event featured Poland's most important culinary competition addressed to professional chefs, the Polish Culinary Cup. Over the six days the capital city of Greater Poland buzzed with international culinary events.
More news
---

It's worth to be here! Pakfood 2017!
Reasonable combination = real benefits
Pakfood and Polagra Tech 2017